Mrs. Pamela Cox
Theater
Mrs. Pamela Cox
Theater
Mrs. Pamela Cox graduated from the University of Kentucky with a major in Communications, and a minor in Vocal Performance. She performed professionally at King's Island in Cincinnati, OH, Opryland in Nashville, TN, Royal Caribbean Cruise Lines out of Miami, FL, and abroad for American Entertainment Productions. She has taught classically for many years, and enjoys combining her skills to inspire a love of learning in all her students. She lives in Sarasota, FL with her husband, Bart, and her three children, Charles, William, and Libby Jane.
Gretchen Mossburg
Art (Lower School)
Mrs. Krista Kauffman
High School Art, Set Design and Theatre
Mrs. Krista Kauffman
High School Art, Set Design and Theatre
Mrs. Kauffman was born and raised in Sarasota, FL, and has enjoyed creating art from a very young age which led her to earn her degree in Graphic Design. Through her passion for creating, sewing, and designing, she has worked with the theater department in costume and set design for the past three years. Mrs. Kauffman enjoys sharing her love for art with her students, and is excited about her third year at TCA. When she is not creating, she enjoys spending time with her husband and five children.
Mrs. Megan Herlihy
Music
Mrs. Megan Herlihy
Music
Megan has called Sarasota home since 2000. She graduated from Palm Beach Atlantic University with a Bachelor of Arts degree in Music, with a double principal in voice and piano, and a minor in Christian Leadership. She is excited to be fulfilling her long-time dream of being a music teacher. Megan lives in Venice with her husband, Jason, and her five children who attend TCA. In her spare time she enjoys being active in her church, watching movies, playing the piano, exercising, and spending time with her family.
Ms. Charlene Tillman
Music (Strings) 4th-6th & Upper School
Ms. Charlene Tillman
Music (Strings) 4th-6th & Upper School
Ms. Tillman is a native of Florida, growing up in Manatee County and now resides in Sarasota. She attended Stetson University in DeLand, Florida graduating in 1996 with a Bachelor of Music. Ms. Tillman also earned a Masters in Education from the University of Cincinnati in 2016. She has been teaching at TCA for the last 5 of her 15 years of teaching. Ms. Tillman taught 5th grade for her first 4 years at TCA and then moved to lower school music and upper school Wind Ensemble. She is currently working on building an instrumental music program at TCA for the development of aspiring musicians, and is also the aftercare director. Ms. Tillman enjoys spending time with her two children, reading with a great cup of coffee, playing the oboe, and attending local performing arts events.
Kimberly testa
Music (Lower School)
Kimberly testa
Music (Lower School)
Karrissa Ratzenboeck
Music (Lower School)
Karrissa Ratzenboeck
Music (Lower School)
Mr. Dominic Stevens
Drum Line
Mr. Dominic Stevens
Drum Line
Mr. Stevens was born in London, England and joined TCA after moving to Florida with his wife, Kate, in 2017. He graduated from Goldsmith's, University of London with a BA Honors Degree in History, and later received a Post-Graduate Certificate of Education in History from the University of Chichester. Mr. Stevens is also a qualified soccer coach and coaches TCA's Middle and High school soccer team. Mr. Stevens loves teaching children and bringing the pages of history to life! Outside of teaching, his interests include soccer, playing the drums, reading, watching movies, going on vacations, studying history and spending time with his wife and two young daughters, Chloe and Lucy
Mr. Nathan Loomis
Barbershop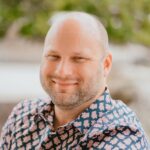 Mr. Nathan Loomis
Barbershop
Mr. Loomis graduated from the University of South Florida in 2005 with a degree in Finance and Management. He has always had a love for young people and, after several years in youth ministry, began teaching high school. He has now been teaching and tutoring students in Math, Science, and History since graduating from college, having taught in both traditional and online schools and running a thriving tutoring business. His amazing wife Jennifer is an English teacher and together they have 3 strapping sons, Aaron, Benjamin, and Matthew. In his free time, Nathan enjoys music and martial arts